Listen – Newsha Tavakolian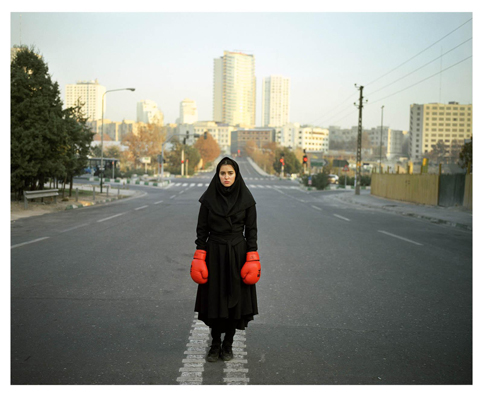 14 aprile – 1 maggio 2012
Immagini che raccontano il Medio-Oriente (Film Middle East Now) – cinema/fotografia/incontri
in collaborazione con la Tethys Gallery
Otto luogo dell'arte nella su sede di Via Maggio, 43 rosso presenta Listen della fotografa iraniana Newsha Tavakolian
Listen
"Imagine a dream. Eyes closed, mouths open, as if in a dream. Standing facing us with their backs to the darkness, they sing, soundless; they have been standing here, singing for themselves for a long time, imagining us, hearing. Standing, facing days of tedium, facing a world that has adorned them with a false crown. Standing, waiting".
For 'Listen', a project inspired by Newsha Tavakolian's childhood dream to become a singer, she made six studio portraits of professional women singers, who are not allowed to sing solo, perform in public or produce CD's in Iran because of Islamic tenets.
Inspired by her feelings about her society, she made six extra images, which are also imaginary album covers with titles for the singers. As a statement, the CD cases are left empty. The works are accompanied by a video installation with silent clips of the women singers performing."
Newsha Tavakolian
Newsha Tavakolian was born in Tehran, Iran in 1981 and is a self-taught photographer whose recent body of work bridges the worlds of documentary and art. Tavakolian began her professional career as a photojournalist aged 16 and has since had her work published in such esteemed international titles as National Geographic, Le Monde and the New York Times Magazine. More recently, she has exhibited her work in galleries around the world, including in The Third Line Gallery in Dubai and the Aaran gallery in Tehran. For this issue of Ibraaz, she talks to Contributing Editor Sara Raza about her practice and the issues relating to contemporary Iranian society that remain close to her heart.

catalog