Roberta Cipriani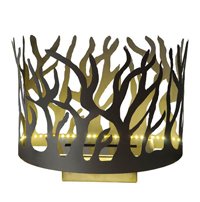 La corona del fuoco
Oh! Nirica, 2011
focolare luminoso portatile
led, acciaio, vernice a fuoco
cm 55 x 38 x 35.
Biography
Roberta Cipriani got her degree in architecture in 1989, and worked at Ark Studio, run by Superstudio's Roberto Magris. She dedicated herself to color studies from Goethe to Steiner (color theory), and worked with clay, through an interior course which manifested itself in form. From this moment, she felt the need to create new spaces around herself, and that they be related to the use of form.