Michelangelo Pistoletto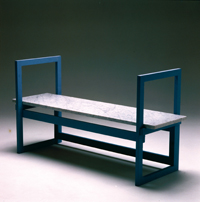 Blue bench
collezione Megalopoli, 1966 – 1979
panca in legno con piano in specchio o marmo.
struttura in legno smontabile
cm 55x85x140 (spessore cm 3 x 5).
Biography
Michelangelo Olivero Pistoletto was born in Biella on June 25, 1933; he is an Italian artist, painter and sculptor, the animator and protagonist of the Arte Povera trend. He made his debut in the 1950s, focalizing on life-size self-portraits done on neutral backgrounds, which later inspired the formula for the "mirrored paintings", characterized by photographic prints of life-size human figures on reflective steel panels, generating trompe-l'oeil effects and rejection-identification between the represented and reflected figure. This accentuation of the role of the spectator as integral part of the artwork achieved coherent success in happenings and theatrical performances. Experimentation with materials continued, on the one hand with the use of found materials, which marked his alignment with Arte Povera and Pop and Neo-Dadaist aesthetics; on the other with a re-thinking of classicist fiction through the use of "anti-classical" materials, such as polyurethane. In 2002, he received the Diploma di Benemerito della Cultura e dell'Arte from the President of the Italian Republic. In 2003, he was awarded the Leone d'Oro for his career at the 50th Biennale di Venezia; and was also given an Honoris Causa degree in Political Science from the Università di Torino.