Gianni Pettena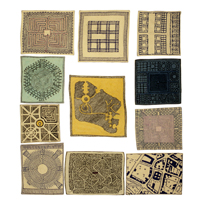 Itinerari territori mappe recinti
collezione Megalopoli, 1987
Arazzi, lana tessuta a mano in Kashimir
insieme 210X210 cm
produzione Lo Speciale per Megalopoli.
Biography
Gianni Pettena co-founded the Architettura Radicale movement and later Global Tools in the 1960s, with projects, furniture, installations, exhibitions, theoretical writings, essays and texts, and experimental activity intended to eliminate disciplinary borders and to re-visit and re-invent alphabets and language. In those years, he began a constant collaboration with major architecture and design magazines such as Domus, Modo, Casabella, which continues today, along with his contributions to art magazines. He has participated in man exhibitions: at I.B.A. in Berlin, Trigon Graz, Biennale di Venezia on three occasions, Centre Pompidou, John Webern Gallery in New York.