Bobo Piccoli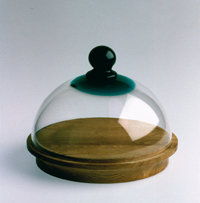 Cheese cover
collezione Megalopoli, 1979
copriformaggio in vetro e piatto in legno.
semisfera in vetro soffiata a mano a Murano,
diametro cm 25, altezza cm 17, spessore cm 0,5.
piatto in legno di rovere tornito a mano
diametro cm 27, spessore 4,5.
Biography
Bobo Piccoli was born in Milan, in 1927. One of the most interesting artists of the post-WW2 period in Italy. Studied at the Accademia di Belle Arti di Brera with Funi and Carrà. In 1946, he joined the post-picassian manifesto Oltre Guernica (Beyond Guernica). During these years, in his first studio on via Larga in Milan, he started painting, drawing and collaborating with film directors (Vittorio De Sica) and architects. In those years, his painting developed a material-based line, influenced by Informale, but also by important surrealist and metaphysical suggestions. The sources are Picasso and Savinio, and later many others. In the 1950s his 'Fugure' distill a profound reflection on existence; Sartre and Beckett are among the writers he loved most. In the meantime, his architectural projects proceed apace with his painting in a research oriented towards the unity of the arts with the insertion of painting in architecture, both urban and social. He began to work with the Galleria dell'Ariete in Milano, run by Beatrice Monti della Corte, where he held many solo exhibitions. His projects with the architects Battistoni, Fiori, Latis, Menghi, Mello, Rizzi, Scarzella, Sgrelli and Zanuso are presented in various Triennali and published in Domus. Bobo Piccoli died in 1981, while painting in his studio. His works are in the Collezione Boschi di Stefano, in the Museo del Novecento, Milan.