Ettore Sottsass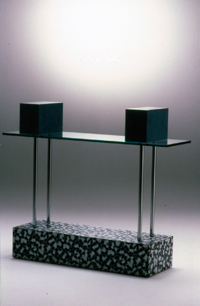 Review Revolution
collezione Megalopoli, 1980
libreria o tavolo da riviste in cristallo, legno, abet print e acciaio.
il piano della libreria misura cm 120 x 35 x 1,5
la base di compensato rivestita in abet print cm 100 x 35 x 20
l'altezza è di cm 100.
Biography
Ettore Sottsass Jr. was born in Innsbruck on September 14, 1917; he was an Italian architect and designer. He got a degree in architecture at the Politecnico di Torino in 1939, and began his career in Milan in 1947, when he opened a design studio in collaboration with Giuseppe Pagano. He married Fernanda Pivano in 1949. At first, he was part of the Movimento Arte Concreta, then joined Spazialismo. In 1958, he began a more than 30-year collaboration with Olivetti in computer design. The following year, he won the Compasso d'Oro, the first in a series of important international awards. In 1980, he opened the studio "Sottsass e Associati"; in 1981 he founded the Memphis group, with prestigious architects from around the world. He experimented in many artistic fields, especially the visual arts. In 1988, he published Terrazzo, a magazine he conceived and produced, which continued publication until 1996. Major international exhibitions and great fame: Sottsass was one of the great names in design and one of the major architects of the past century. He died on December 31, 2007, of cardiac complications of influenza.